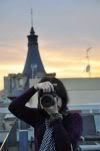 Hi there!! ✿
ARABESQUE is a she who shares her passion for travelling. ✈
How she wishes, she has all the time in the world to venture and see new things.
Unfortunately, reality dictates the so called: "bubbled life".
Call her a late bloomer,
She decided to muster up the courage and dragged her feet a thousand miles away to Europe
* for now, her favorite destination *.
What maybe physically grueling and tedious for some, for her, it's the contrary.
She finds travelling : a way for her to de-stress and unwind.
She feels best: when she's out to see the world!
And so, this blog is where she begins her journey,
A sort of travel diary, hence the name "Mon Journal de Voyage".
Here, she shares her opinions and experiences and also,
that is, to inspire readers * LIKE YOU * to explore outside of the bubble.
Start now and don't wait for tomorrow.
Thank you for dropping by. ^0^
~ ARABESQUE ~ ♥ ♥
instagram:
@mintnmushroom
email:
bettybangs@ymail.com